Hi,
I am pleased to announce that my new podcast is ON THE AIR ....
THE ZEN of EVERYTHING!
... a Zen podcast not quite like any other right now ... OR FOR THE LAST 2500 YEARS!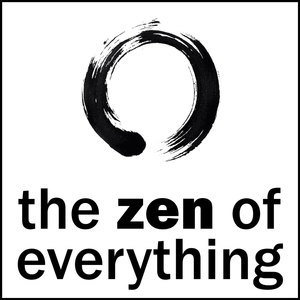 A zen take on life, love, laughter, and everything else. With Jundo Cohen and Kirk McElhearn
ZEN-OF-EVERYTHING.COM
The basic premise is simple: We talk about Zen & Everything.
Sometimes wise and sometimes wise-assed, putting a "Zen" twist on all matters, bringing in thousands of years of Wisdom and Compassion ...
... clarifying all timeless mysteries of the universe, saving marriages and saving the planet, fixing both your car and Washington, solving all the other problems in the world and peoples's lives.
You can subscribe and listen too on Apple Podcasts, Spotify, RSS and the like.
Send your big and little questions and problems (Is there a God? How to get jelly out of a rug?) to ...
podcast@Zen-Of-Everything.Com
Recent episodes include ...
Episode 27: For Justice & Peace
June 12th, 2020 | 27 mins 30 secs
In this time of protests around the world, we discuss how Zen approaches injustice and protest.

Episode 26: Zen Books
May 29th, 2020 | 28 mins 10 secs
"Zen is a special transmission outside the scriptures, not depending on words and letters." With that in mind, Jundo and Kirk discuss Zen books: how to read them, what to read, and when to burn them.

Episode 25: Sitting with Pain
May 15th, 2020 | 26 mins 18 secs
Sitting meditation can be painful for a lot of people. Jundo and Kirk discuss how to sit without pain, or how to accept the pain when sitting.

Episode 24: Walking
May 1st, 2020 | 27 mins 27 secs
Walking can free your mind, but can also be an act of meditation.

Episode 23: Silence
April 17th, 2020 | 27 mins 2 secs
Is zen all about silence?

Episode 22: Hope
April 3rd, 2020 | 25 mins 40 secs
In these times, we need hope. Jundo and Kirk discuss how we can cultivate hope. And we learn that the name for the Zen of Everything podcast in Japanese would be Zen no Zen.

Episode 21: Zen in Quarantine
March 20th, 2020 | 23 mins 18 secs
With many people going into quarantine, Jundo and Kirk discuss how this time can be beneficial, and how washing your hands can be the act of a Boddhisatva.

Episode 20: Zen in the Time of Coronavirus
March 7th, 2020 | 27 mins 18 secs
With a potential pandemic looming, Jundo and Kirk talk about rumors, unreasonable and reasonable fear, plagues of the past and today, and a good Zen attitude to sickness and death.

Episode 19: Original Buddhism, Changing Buddhism
February 21st, 2020 | 26 mins 3 secs
What is "original Buddhism?" In the absence of texts from the Buddha's times, how can we know what the Buddha really taught? And how does the corpus of later texts help us understand Buddhism?

Episode 18: The Zen of Kids
February 7th, 2020 | 28 mins 54 secs
Jundo and Kirk talk about zen and parenting.

Episode 17: Is Zen Hard or Easy?
January 24th, 2020 | 27 mins 43 secs
Jundo and Kirk discuss "hard" and "easy" zen. Has zen become too easy? Is it too hard? You are New York all along.

Episode 16: War - What Is it Good For?
January 10th, 2020 | 30 mins 56 secs
Jundo and Kirk talk about zen and war. How should zen practitioners act when faced with war? How can we prevent war?

Episode 15: I'm Dreaming of a Zen Christmas
December 27th, 2019 | 29 mins 55 secs
Jundo and Kirk discuss how Christmas and Zen can find common ground, and discuss their favorite Zen Christmas carols.

Episode 14: What Is the Sound of One Kōan Clapping?
December 13th, 2019 | 28 mins 4 secs
You've probably heard about kōans, those enigmatic zen dialogs that make no sense. Jundo and Kirk discuss the origin and history of kōans, what they mean, how they work, and what the sound of one hand clapping really is.

Episode 13: Meditation Is Easy
November 29th, 2019 | 25 mins 31 secs
Is meditation easy? Is it difficult? Jundo and Kirk talk about shikantaza meditation and the importance of intention. And Jundo discuss his patented Insta-Zen technique.

Episode 12: One Is the One
November 15th, 2019 | 27 mins 40 secs
Jundo and Kirk discuss the idea of oneness. The good, the bad, the beautiful, and the ugly are all facets of the great jewel. One ain't just one thing ... or one ... or a thing ...

Episode 11: The Dokusan Room is Kinda Baloney
November 1st, 2019 | 29 mins 5 secs
Jundo and Kirk discuss the Dokusan room, the place where the teacher tests students and students test the teacher. What goes on can be romanticized and overemphasized, misused and misunderstood (especially by modern westerners), yet greatness sometimes happens too.

Episode 10: Zen in the West and Zen in Japan
October 18th, 2019 | 30 mins 19 secs
Jundo and Kirk discuss differences between the way zen is practiced in the west compared to in Japan.

Episode 9: Favorites
October 4th, 2019 | 27 mins 40 secs
Jundo and Kirk talk discuss favorites. What is the best ice cream flavor? What is the best fruit? Do favorites matter? Do appearances matter?

Episode 8: Things Aren't That Bad
September 20th, 2019 | 28 mins 27 secs
Jundo and Kirk talk about how bad or good things are in the world. Things really aren't as bad as they may seem if you watch the news too much.

Episode 7: Zen and Religion, Sutra Thumpers, and Mindfulness Meditation
September 6th, 2019 | 24 mins 8 secs
Jundo and Kirk discuss whether you can practice Zen Buddhism if you are a Christian, Jew, Muslim, or believer in another religion.

Episode 6: Do Robots Have Buddha Nature?
August 23rd, 2019 | 24 mins 52 secs
Jundo and Kirk take a look at the zen of the future, discussing whether or not robots are sentient, and whether they have Buddha nature.
Gassho, Jundo